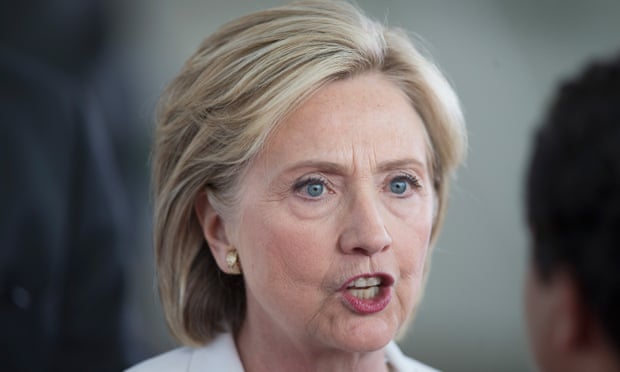 This is a picture of Hillary the attack feminist and furious
misandrist
striking out in an Ohio speech at
those men
in the GOP, published in
The Guardian
today at the top of their story.
And this is their headline and the beginning of their account.
Hillary Clinton likens GOP candidates to terrorists for 'extreme' views on women
Hillary Clinton on Thursday compared her Republican opponents to terrorist organizations when it comes to their views on women, telling an audience her potential rivals were pushing outdated policies.
"Now extreme views about women? We expect that from some of the terrorist groups. We expect that from people who don't want to live in the modern world," the Democratic presidential frontrunner said.
"But it's a little hard to take coming from Republicans who want to be the president of the United States, yet they espouse out of date and out of touch policies," she added at a rally in Cleveland.
"They are dead wrong for 21st-century America."
Clinton did not mention any specific terrorist or militant groups, such as the Islamic State, which has held women as sex slaves in Iraq and Syria.
Republicans swiftly accused her of directly equating the Republican presidential field with terrorists.
As did
The Guardian
, come to that.
The story continues,
"For Hillary Clinton to equate her political opponents to terrorists is a new low for her flailing campaign," said Republican National Committee spokeswoman Allison Moore.
"She should apologize immediately for her inflammatory rhetoric."
Clinton, seeking to become the first woman to win the White House, said she took it "a little personal when they go after women", pointing to Republican efforts to cut access to women's health centers and opposition to abortion rights.
She specifically cited Senator Marco Rubio, saying he "brags about wanting to deny victims of rape and incest access to healthcare and abortion", and former Florida governor Jeb Bush's opposition to funding for Planned Parenthood, a nonprofit abortion provider.
Clinton also turned her attention to home state governor John Kasich of Ohio, telling supporters he had banned state funding for some rape crisis centers because they sometimes referred women to other health facilities that provide abortion services.
Here is CNN.
On women's health, Clinton compares Republicans to 'terrorist groups'
In a gross distortion of their positions she tore into them in Ohio.
"I would like these Republican candidates to look the mom in the eye who caught her breast cancer early because she was able to get a screening for cancer or the teenager who didn't get pregnant because she has access to contraception," Clinton said.
"Or anyone who has ever been protected by an HIV test."
Clinton told the audience of around 2,000 according to Case Western University that she takes "it a little personal when they (Republicans) go after women."
"This is happening all over the country, even here in Ohio," she said.
"Programs and services women use to take care of themselves are being cut down."